She's gonna be darker than I originally planned… Yandere maybe.. YEssss we'll see.
Dunno her name yet… Impish nature… lvl ???
Connie fell from her bike and cracked her skull.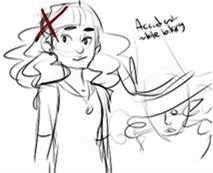 Constance (Connie)

Shiny
No

Relations

Traits

Other

Death
Accidental: Head trauma/ Bike accident

Sin
Wrath

Other Ghosts
Nebula, Artimador, Chester, Talla, Jukai, Jenkins, Poppet, Pup, Pet, Zipper, Danny, Ulla, Fu, Zeppelin, Bex, Nirvana, Spirit and Tomb, Virgil, Skadi, Dr. Tom, Samara, Dimitri, Sheut, Iaret, Zoe, Engel, Jerry, Ester, Philip, Roberto, Sefer, Adam, Charlemagne (Charles), Tizona, Angie,
Ad blocker interference detected!
Wikia is a free-to-use site that makes money from advertising. We have a modified experience for viewers using ad blockers

Wikia is not accessible if you've made further modifications. Remove the custom ad blocker rule(s) and the page will load as expected.