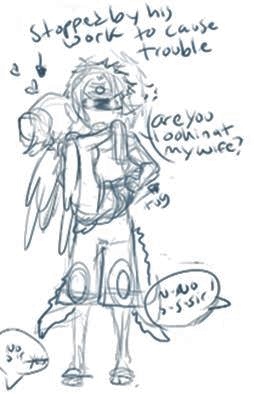 Fact: In Pokemon-land Otters can bang Pelicans and have bebehs. :iconthemoreyouknowplz:
Sams daddy is a Floatzel named Dave. He's an incredibly over-the-top life guard. He enjoys his job solely because he can be flashy and handsome and ... just... over the fuckin top. Does the whole Bay Watch thing... Slow motion running to save someone... No ones died on his watch though. He's free spirited and just always smiling and being pleasant. He's pussy-whipped though. He has a bunch of tattoos because Penny thinks they're hot. He spent most of his time with Otto when he was younger (he found Sam to be intimidating and scary... even as a child.)
Dave Delmar

Shiny
No

Relations

Family
Sam (Son)




Significant Other
Penny (Spouse)

Traits

Other
Ad blocker interference detected!
Wikia is a free-to-use site that makes money from advertising. We have a modified experience for viewers using ad blockers

Wikia is not accessible if you've made further modifications. Remove the custom ad blocker rule(s) and the page will load as expected.